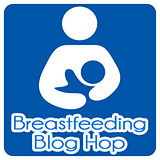 This post is part of the Breastfeeding Blog Hop hosted by Life with Levi, and co-hosted by The Slacker Mom, and Diary of a Devil Dog Wife. Visit the links below and link up your own story or leave a comment!
Last week's blog hop was about
unkind words and comments about breastfeeding
. Today's breastfeeding blog hop deals with encouragement for breastfeeding.
For me, my favorite thing to hear when I was talking about breastfeeding struggles was "That happened to me, too." There was something about knowing that other women had been through it that made me feel like I wasn't a failure. I didn't have that many challenges, but it's easy to feel like you're doing something wrong when you're doing something new. Like breastfeeding.
So when, at six weeks, Baby T started arching at the breast and pulling off immediately after latching on, it was comforting to hear other women say it happened to them too. When, at six months, my babies became completely distracted while breastfeeding and cut their sessions short, it was nice to hear that other women had been through it.
Little M is currently cutting all four of his eye teeth. And he is biting the crap out of me. My nipples are more sore than they were when Little M was a newborn. This didn't happen with Baby T, so I felt better when I was talking to my sister on the phone the other day and she said she had been through that too.
Baby T went through a couple of nursing strikes when he got sick and I was working full time. That was challenging, because I didn't have any close friends who had been through that. It was almost more challenging than anything else had been just because of that. There were some women who suggested that he might be self-weaning, and others who asked, "doesn't he take a bottle just fine?" Their comments didn't make me feel any better. So I searched online. Every time I found a woman telling her story about a nursing strike, I felt better. Even when I read one story that didn't end well (the baby on the nursing strike never ended up nursing again), I felt better that there were other women who commiserated with me.
Sometimes it's not about seeking advice or getting answers; it's just about knowing that someone else feels your pain. It's not even necessarily about knowing that someone else dealt with a challenge and got through it. It's just about knowing that they dealt with the challenge.
Next time you're listening to someone relay a breastfeeding challenge to you, remember that. I often feel like I'm not sure what advice to give, or I'm afraid of saying the wrong thing. But you can't go wrong if you just empathize and explain that you have been there too. (Now why can't the men in our lives understand that when we're griping to them about whatever it is we gripe about?)